Principal's Message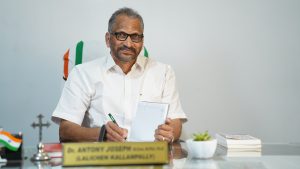 Dr. Antony Joseph 
Research Guide Mahatma Gandhi University Kottayam
M Com , M Phil, PhD 
A warm welcome to all the youthful and vibrant aspirants into SAC family!
St. Antony's College Peruvanthanam was founded in 2013 with the aim of nurturing and grooming students to become capable architects of future society by imparting knowledge, understanding, skills, and critical thinking. At SAC, we strive to educate young aspiring minds by providing an academic environment and innovative pedagogy that helps them become versatile individuals. Our goal is to prepare students to succeed in a highly competitive professional environment and become expert professionals themselves.
Our college is situated on an eco-friendly green campus with serene, peaceful surroundings and breath taking views of the hills. Over the years, SAC has expanded its academic offerings from just a few institutional courses to post-graduation and other add-on courses. To elevate the generation and aid them to understand more about the vast opportunities of the changing world, our academia has initiated a set of national and international courses. To revolutionize the youth into inspired leaders and individuals with honesty and honour, we offer innovative courses such as CA, CMA, ACCA,CIMA , CPA, and EA(Enrolled Agent) courses along with three year B. Com degree Courses. The completion of these courses not only opens up an appealing world of financial management opportunities but provides the students the essential experience to meet the demands of the corporate world. Besides, we provide advanced courses like BCA, B. Sc. Cyber Forensic, Bachelor of Fashion Technology, B. Sc. Hotel Management, and BBA Aviation etc. for the development of positive attitude towards science and technical education. The college also acts as an IGNOU regional centre for students who are unable to pursue their regular college education.
At SAC, we strongly believe that financial constraints should not prevent students from accessing quality education. Apart from academic achievements, we also encourage the development of sports, arts, and culture among our students. Our list of clubs and activities are broadened each year with a hope to have something that interests every learner.
Fuelled with high motivation and aspiration, we are on an expedition for excellence and redefine the success each year. And I ensure all the aspirants and their parents that in the coming days we will continue this voyage with all elevated enthusiasm and come up with a platform of holistic learning to the young generation of students.